The Plastech Quad Knob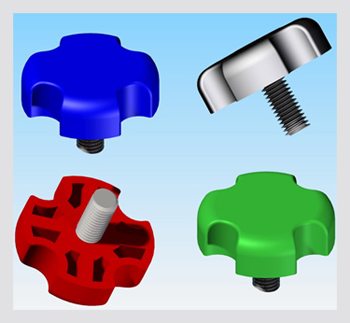 The Plastech Quad Knob has been developed to meet demand by industry wanting a strong, high quality threaded knob for securing doors, machine guards and covers which is easy to use and will enhance the visual appearance of machinery etc.
The standard colour is black and other colours are available if required (a minimum run qty may apply). Clients can request the option to have their own engraved logo on the top of the handle (a minimum run qty and a one off set up cost for the engraved inserts may apply). Talk to us at Plastech regarding your requirements.
High Quality Engineering
The Quad Knob is produced in glass filled nylon a high quality engineering thermoplastic. Threaded options currently available are 6 and 8mm male and 6 and 8mm female.
The threaded inserts are zinc plated steel and there is an option of stainless steel (a minimum run qty may apply). Plastech will be introducing a 10 and 12mm version in the near future if you have a requirement for this size please contact us so we can update you regarding the introduction of this product.